Please follow per garment label cutting and folding Operation and Installation Guide. The procedure is suitable for woven label machines, like YS-3000, YS-4000, YS-5000 series. you also can use it as reference for YS-6000 series machines tooling install / exchange guide.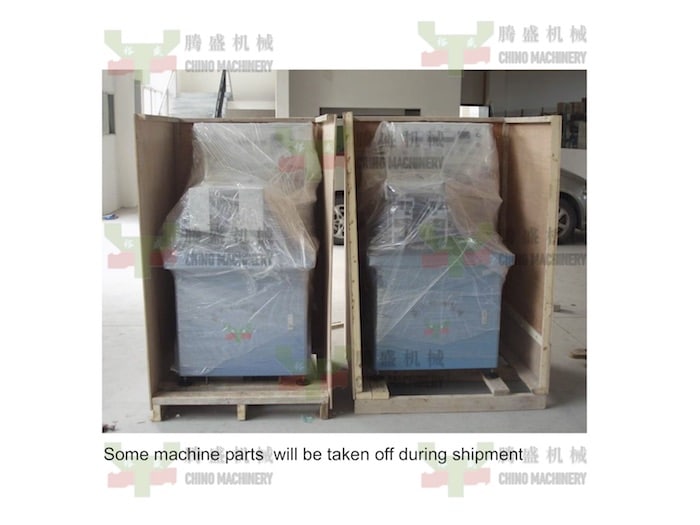 Label Machine Package
Normally chino machinery label cutting and folding machine (or other label machines similar) will be packed in a plywood case. raw wood case shall be fumigated before packing. Inside the case, we will will apply plastic film cover on the machine, to avoid moisture during ocean shipment.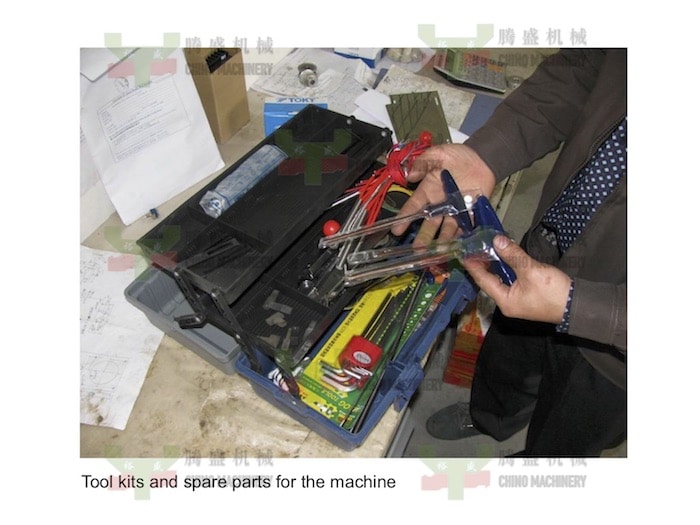 When you receive the package and take out the machine, you will find accessories box. there are full set tool kits and spare parts, user manual inside the box. tool kits includes allen wrenches, screw drivers, pilers. The size /length can be different. We equip it according to different use for future machine maintenance.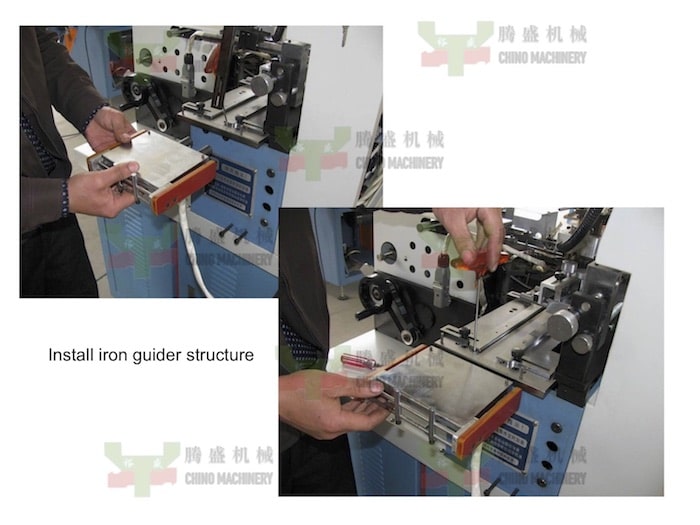 some parts, like label pre-flat table, decoiler, stacking, may be taken off during shipment. we shall find and install it like the photos. fix the parts properly. You may need to connect some wires for some special machines. our engineer will give you additional photos guide.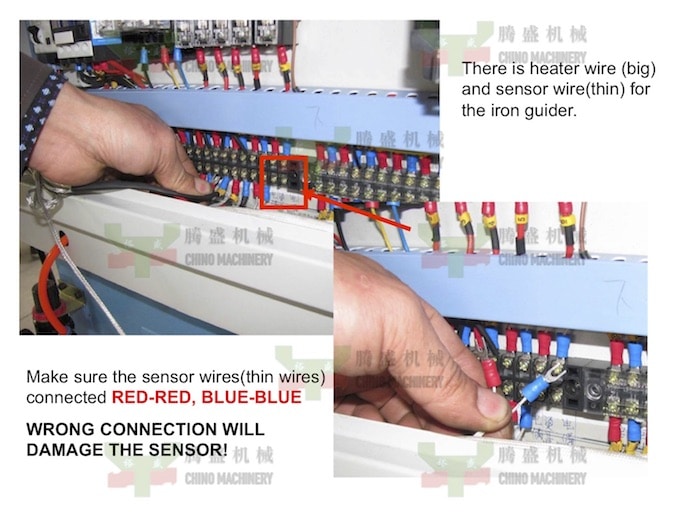 Install Label Decoiler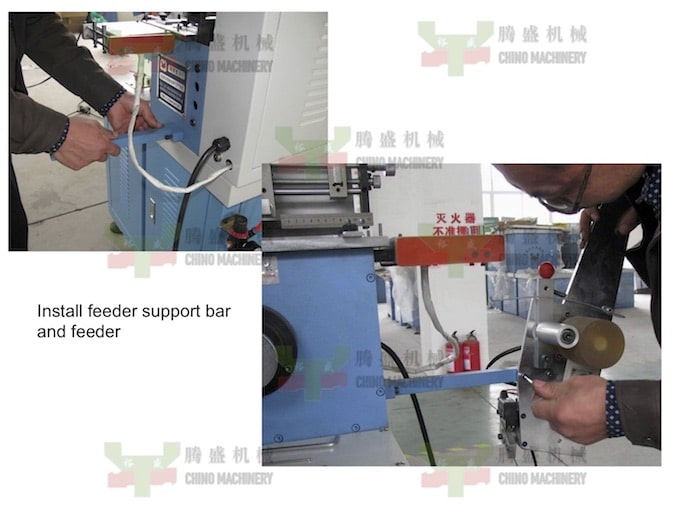 find the decoiler parts package and fix it on machine side. We will try to fix electronic parts on machine and mechanic parts may be taken off. so that it can reduce customer difficulties of self installation.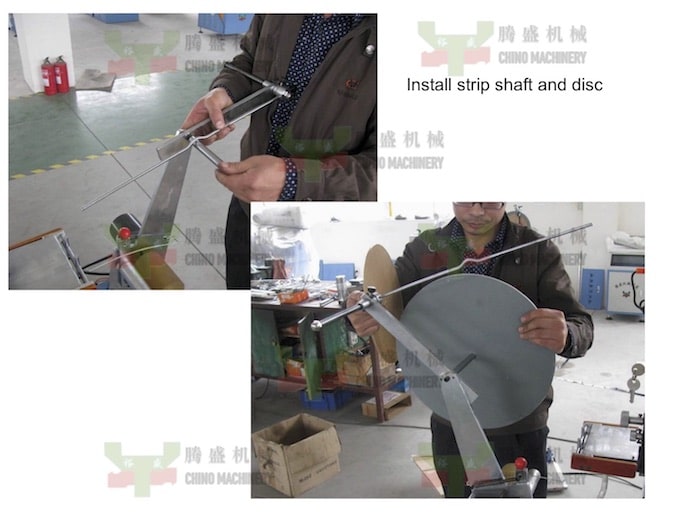 Install decoiler's shaft and plate according to above photos. the decoiler is motor drive with a timer relay. we shall find the plug and connect it with base on main machine.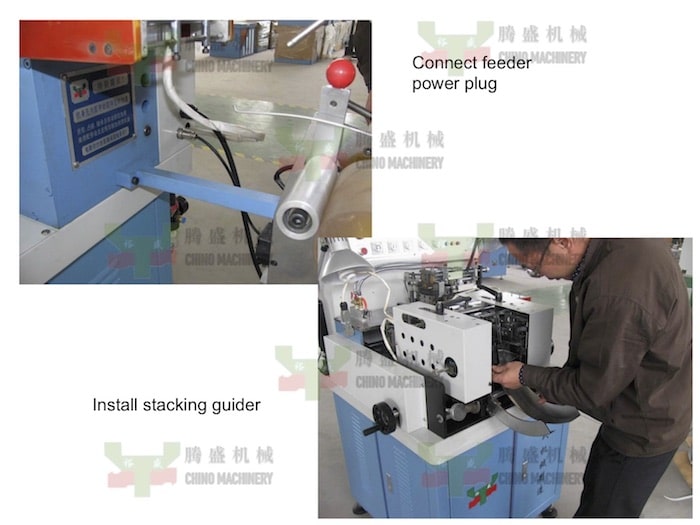 Label Stack and Guide way
Find the stack guide way unit and fix it with screws. the screws can be found in accessories box. we put some extra together. you may use it in future.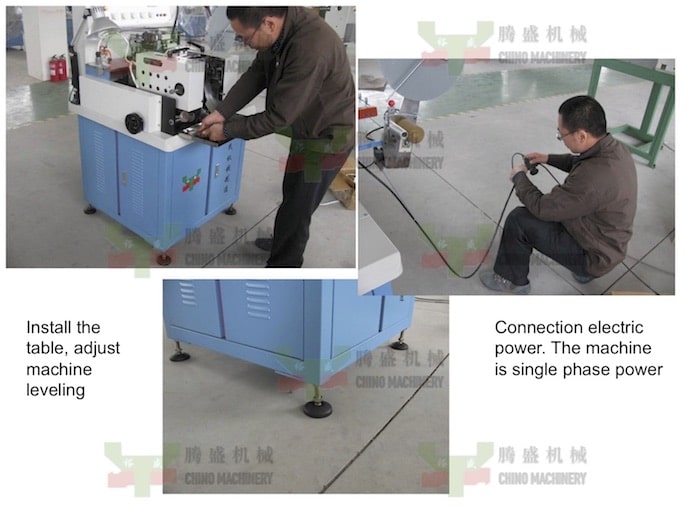 Install label cut and fold machine operate platform in front of machine. Adjust machine's feet to make machine level and stable. then plug in power cable with outside electric power. Normally our label machines are with single phase, 50/60hz. some special machines, like screen label printing machine, can be with 3phs. 
Label Pusher for Woven or Printed labels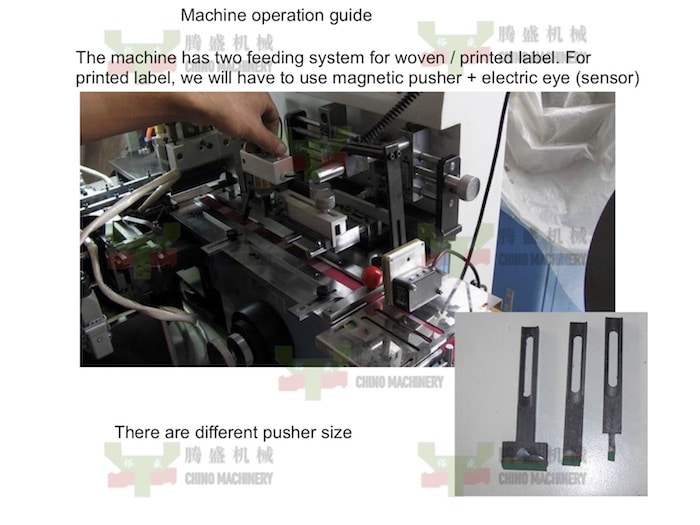 for CHINO YS-3000, YS-4000, YS-5000 series label cutting and folding machine, there are two type label pusher for woven or printed labels. for printed label, we shall install Electromagnetic pusher + mark tracer. according to printed label width, we shall select proper width pusher's tip. the tip is with flat rubber surface and can feed flat label strips. mark tracer will be used to check label length and eliminate printing section length errors.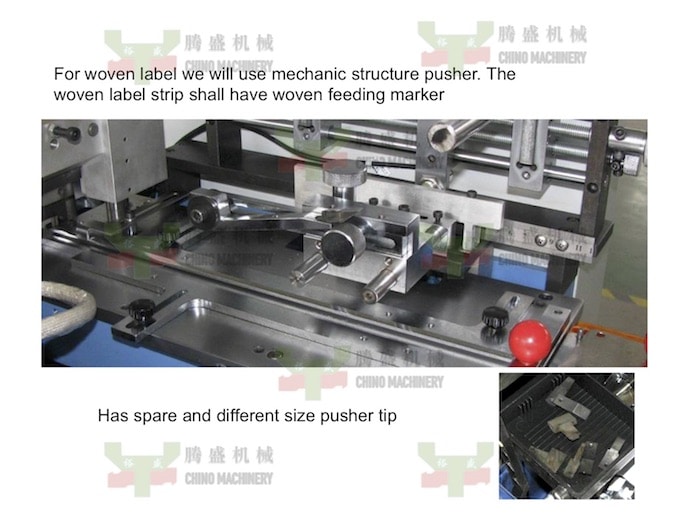 for woven label, we shall use woven label pusher and need not mark tracer. We can set label length on label machine. woven label length setting system will keep enough space for label roll section length error. according to different label strip width, we shall select proper width tip for woven label pusher.  
Label Folding Tools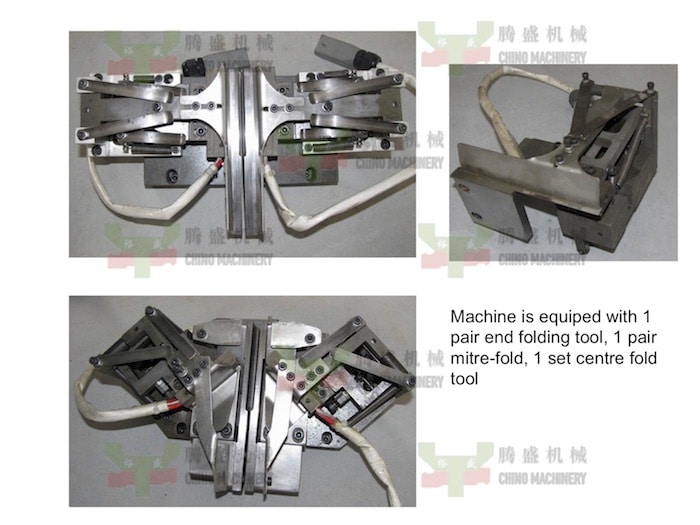 for YS-3000, YS-4000, YS-5000, YS-6000 label cut and fold machines, we equip machine with full set folding machines, Including end fold tool (two pcs), centre fold tool (one pc) and mitre folding tool (two pcs). You can select proper tool for target job. Each tool has heating bars and temperature sensor. we shall check and replace it if damaged after long time working. 
Label Cutters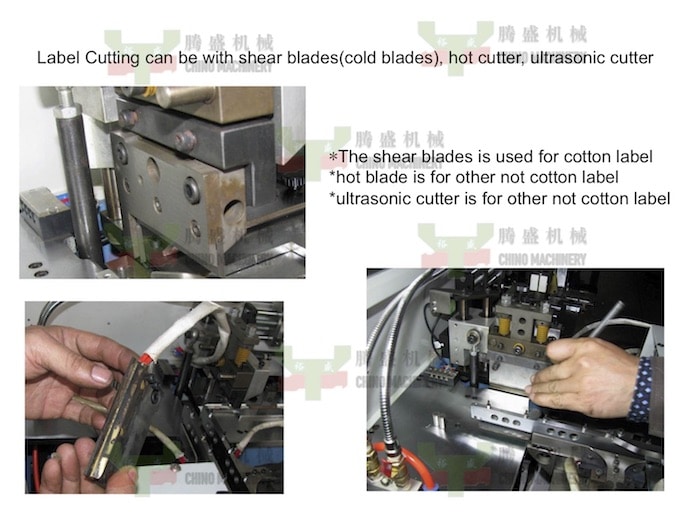 label cutting can be hot cut, cold blade cut or ultrasonic cut. Hot cutting is most common for satin, polyester label, taffeta and so on. Ultrasonic cutting is for similar material labels, while ultrasonic cutting edge is more soft. it is for high grade label cutting. cold blade cutting is for cotton labels mainly. Cotton labels can't be cut by hot/ultrasonic.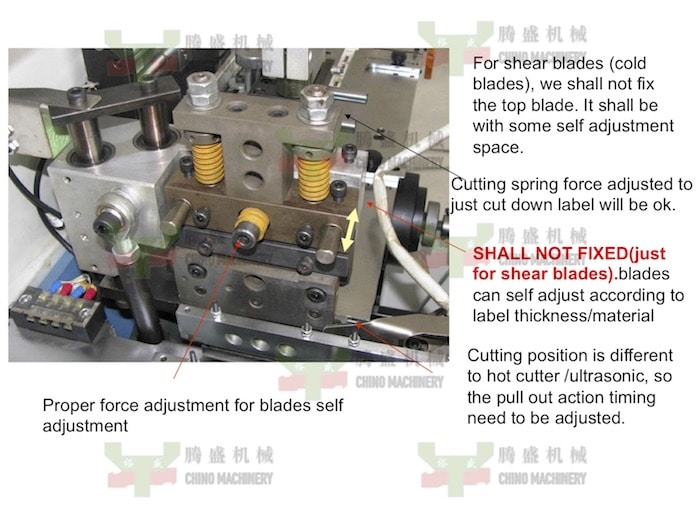 On cutter holding frame, there are two springs (yellow). It is for cutting force. we can adjust the pair nuts to adjust cutter cutting force. For Hot/ultrasonic cutter, we'd better make cutting force just enough to cut down labels will be ok. Too much force will reduce shorter cutter working life. Front spring is to control cutter horizontal position. It is important for cold cutting to make up/down blades close enough during cutting. We shall not fix cutting frame horizontally movement for cold blade cut. it is for blade protection. 
Timing Adjustment for different cutters
Cold cutter for cotton labels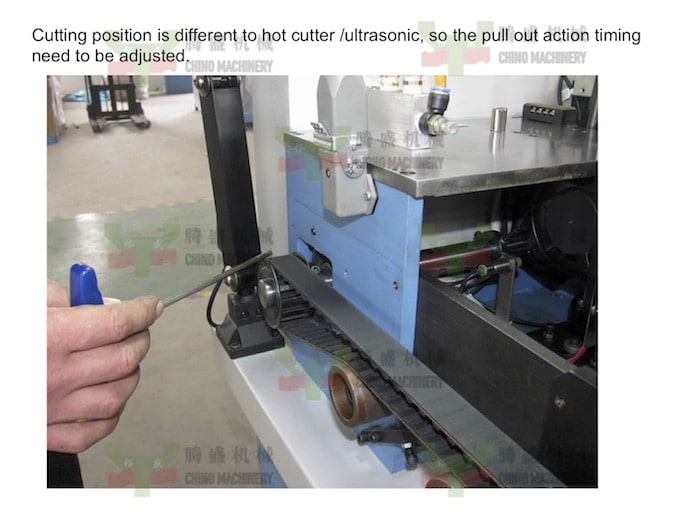 Cold blade cutting position is on down blade outside edge. While hot cutting position is on top surface of down blades. Ultrasonic cutting position is on surface of ultrasonic horn. So label cutting and folding timing is different. For YS-3000/4000/5000 machine, we shall adjust time on the side shaft.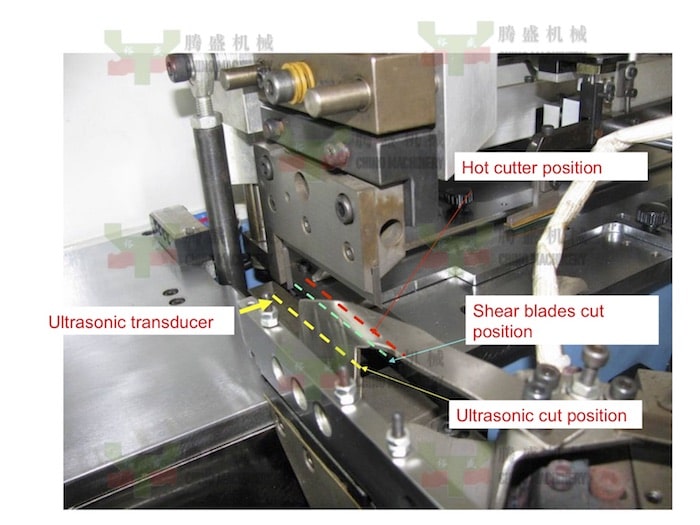 Ultrasonic system for Label cutting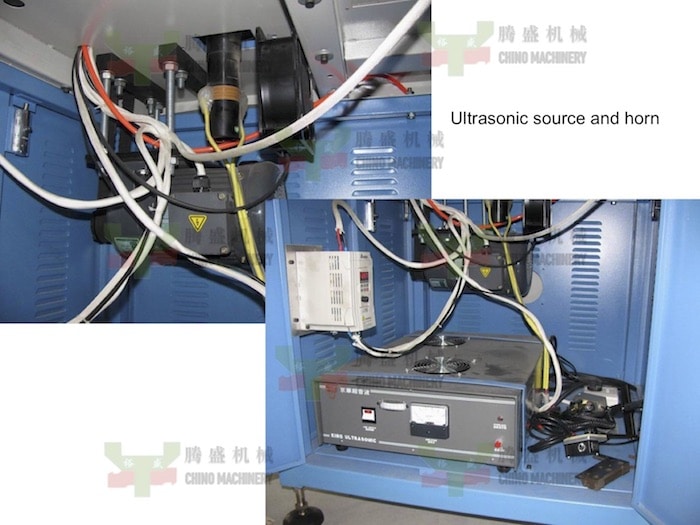 For Ultrasonic label cutting and folding machine (Ys-5000), ultrasonic generator is inside the cabinet. The ultrasonic horn can be over table or just down side the table according to different model of label cutting and folding machines design. Main motor is installed inside cabinet. 
Hot cutters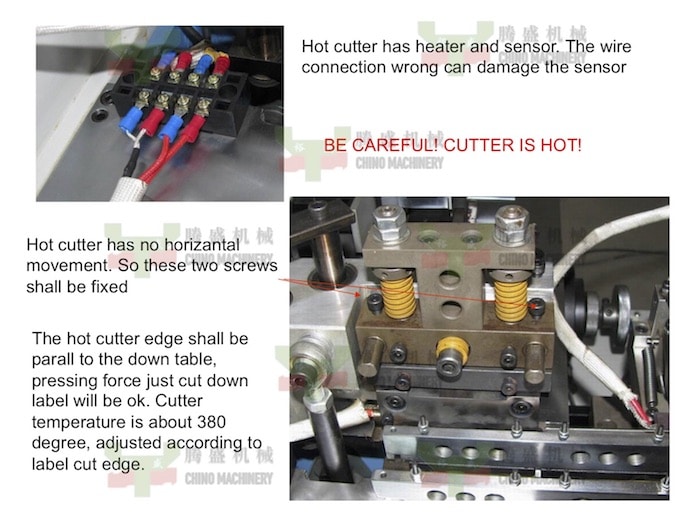 Hot cutter is with heating bar and temperature sensor. When we exchange or reinstall hot cutter, we shall be careful with wire connections. heating bar is AC220V voltage and temperature sensor is DC24V. 
Hot cutter cut edge shall be parallel to table (down blade). The cutter shall be sharp enough. we can adjust cutting press accordingly, as lower as possible and just can cut through label is ok. 
Hot cutter working temperature is 380~400 degree. Operator shall be careful.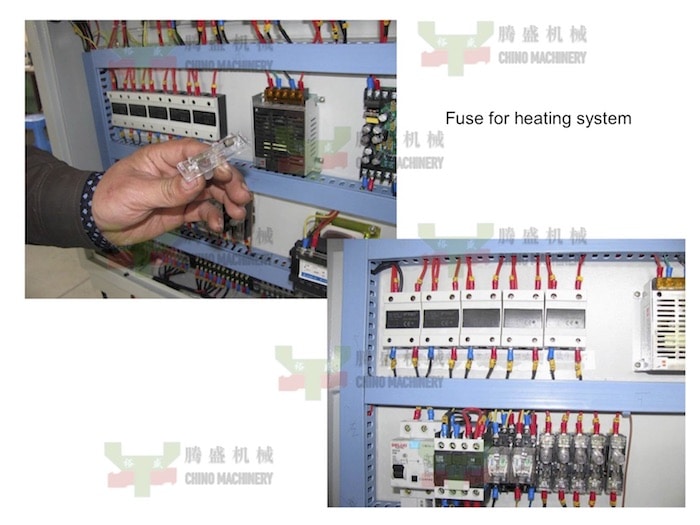 Open rear cover of cabinet, we can see electric circuit of label machine. Each heating cycle has fuse and contactor. If we find any heating parts has problem, we shall trace complete circuit of heating for trouble shoot. 
Label cut and fold machine Control Panel
On the control panel, there are different temperature controllers, for folding tool, label pre-flat iron, Hot cutter, fix press after fold. we can adjust it according label material, cutting/folding result conditions. Mark tracer set button is also on control panel. 
The counter is for label quantity setting. machine will stop automatically stop when reach the value. Operator can press start button and restart work. 
Working speed adjust shall be adjust slowly. Sudden increase / decrease may introduce big shock for machine mechanic structure. It make cause machine abnormal. 
Temperature Setting for Parts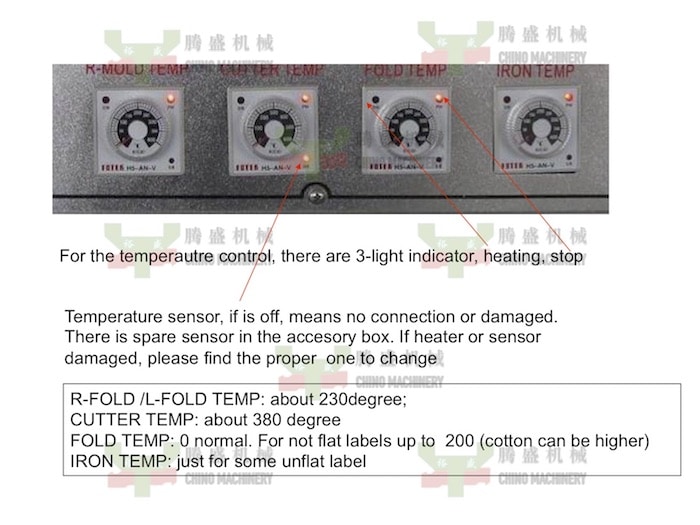 Normal folding tool temperature is about 230 degree. if label is thick or fold is not enough, we can increase step by step. Cutter temperature can be 380~400 degree. Fold temperature normally 0. for cotton or not fixed fold, we can increase temperature to get stable fold. Iron temperature is for some un-flat label rolls. 
Label Fold System Timing Check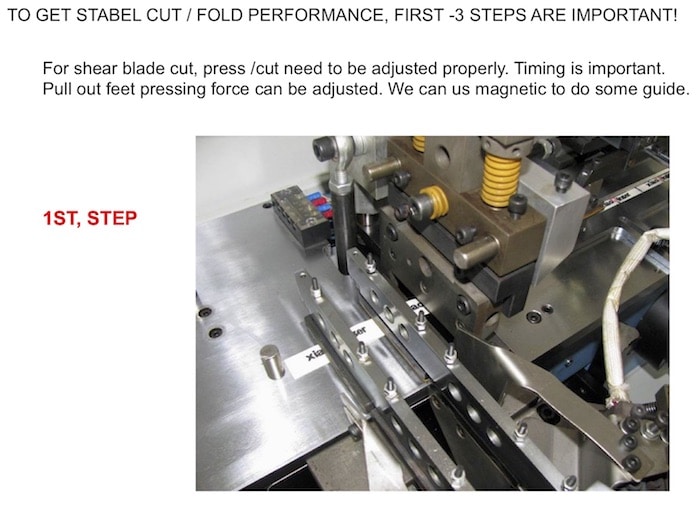 Label machine's long press shall fix label during label cutting. Press-cut action shall be synchronized.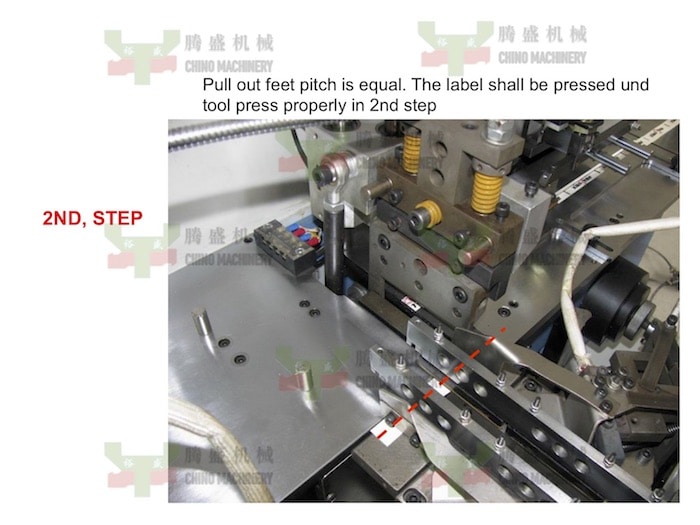 2. after label cut down, press will pull label section to second position. Press on label tool will fix the section. Then machine press will go up and move forward for next cycle. In second cycle, machine press will move label section to next stop, folding.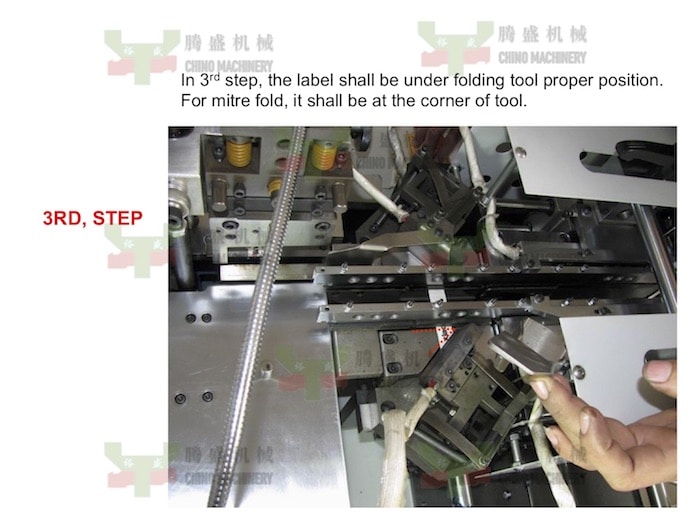 3. In third stop, Mitre fold tool triangle position is working position. for other fold, like End/centre,  position can be different.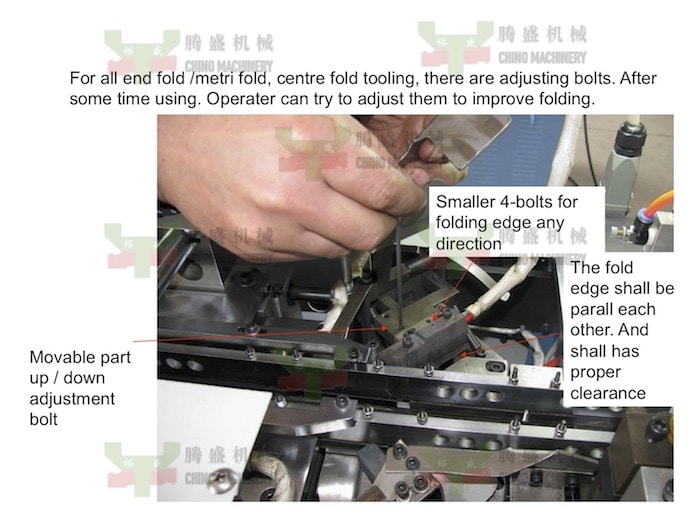 All our fold tools are preset properly before shipment. After a long time working or customer meet special fold, we may need to adjust part position to improve label fold . Please be careful adjust it. good operator will collect good tool set skills.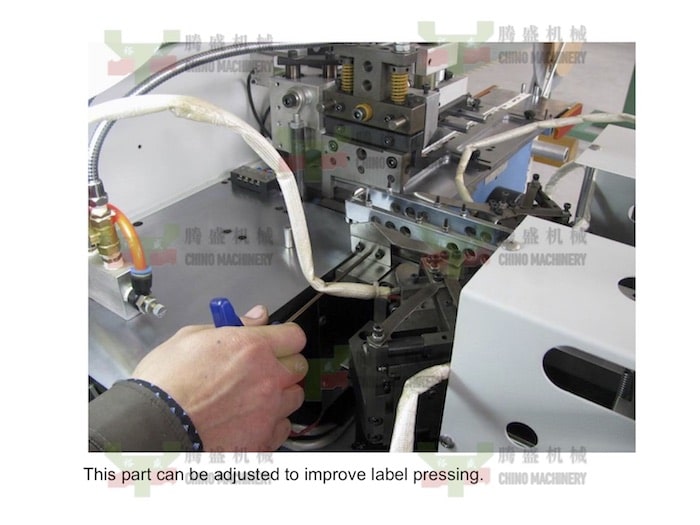 On label press left/right parts, there is small short section plate in front. And there are different length feet with springs. all of them work as label pressing unit during or after label folding. We shall make sure that press shall be proper during label move along the long piece. we may need to adjust spring force or exchange rubber under the feet.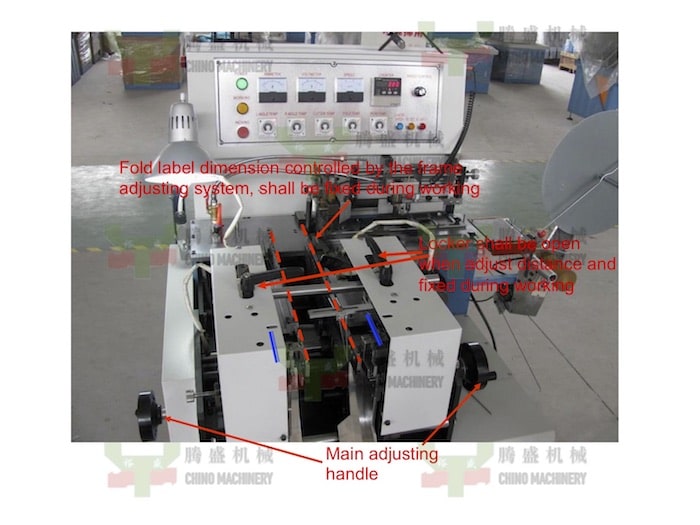 Label Fold width adjustment
Please make sure that Black handles shall be open during label fold width adjustment and lock it during machine working. the shaft will pass through left/right label folding transmission system. The guide way of stacking will be adjusted according to finished label width.
Label Machine Stacking system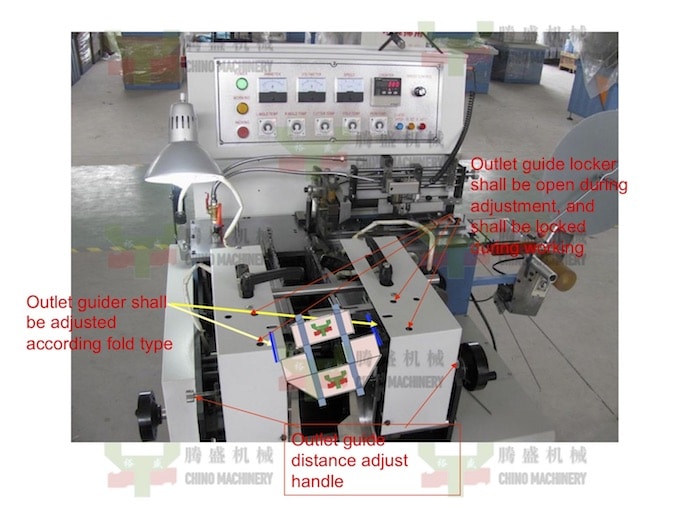 The guiding system and stacking system are with lock handle, please sure open during adjustment and close during working. 
Label Machine Lubrication and Routine maintenance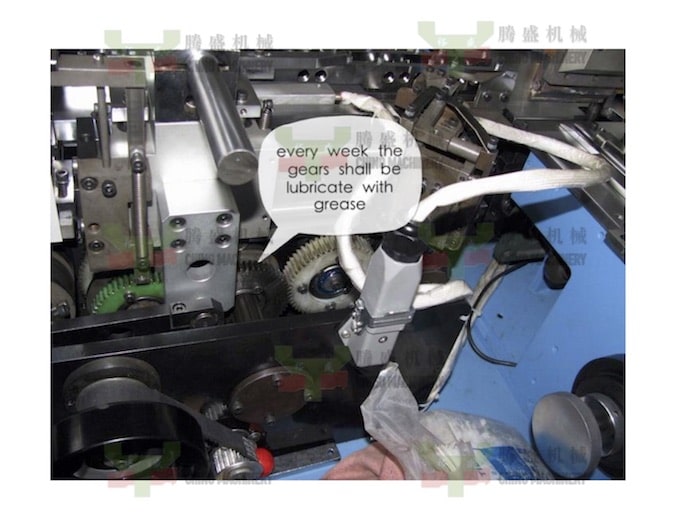 For all machine moving parts, like gear, guide, screw, please lubricate with grease every week. For liner bearing along cutter, we shall add oil lubrication every shift. Folding tools shall lubricate every shift also. Good maintenance will make machine work stable and lower noise.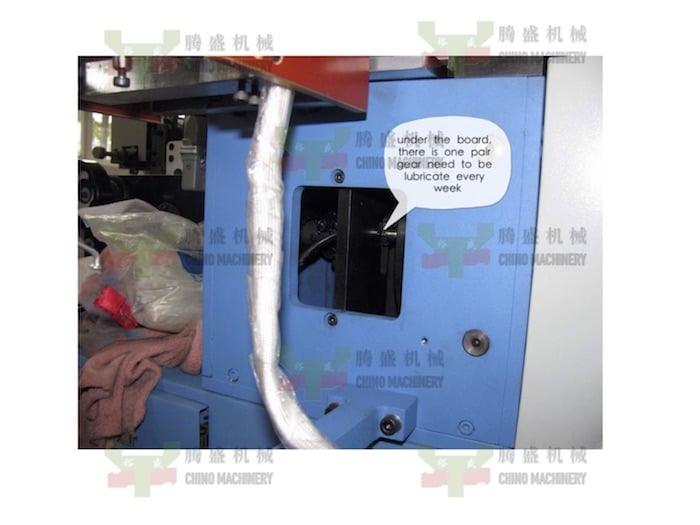 Noted that just under label feeding table, there is a pair bevel gears. It shall be lubricated with grease every week or enough according to working time. 
Ultrasonic system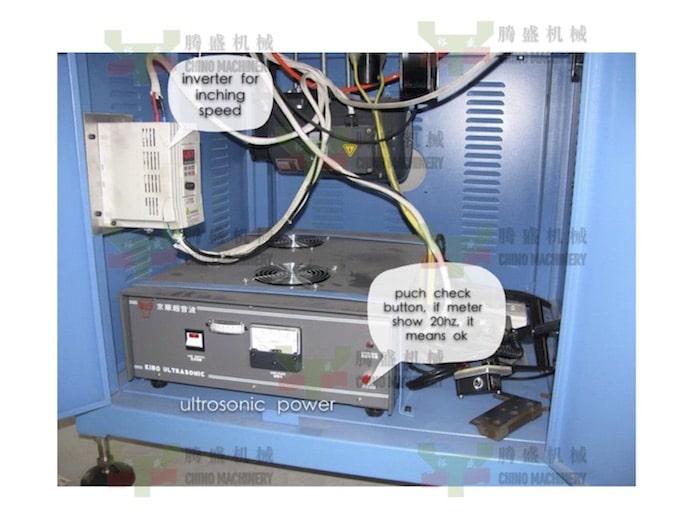 For YS-5000 series label cut and fold machine, ultrasonic generator will be put inside machine cabinet. If ultrasonic cutting is abnormal, please check power of generator and testing button. You'd better contact us if have questions.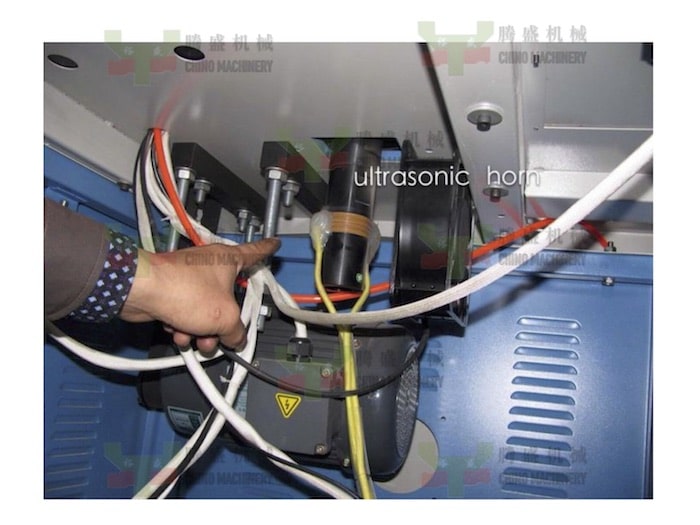 For different models machine, Ultrasonic horn install position can be different. it may be under or on top of table.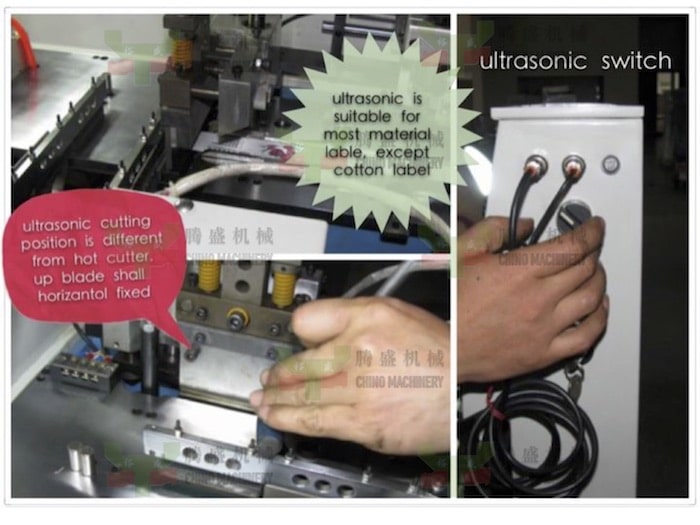 Ultrasonic cutting is suitable for most garment labels like satin, taffeta or other polyester materials. The cutting edge is very soft and sealed well. It is not suitable for cotton labels. for cotton label, we will have to use cold blade cut.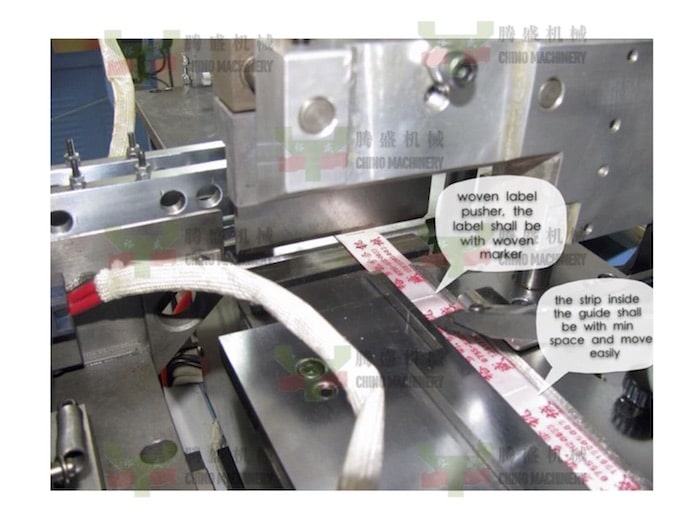 FEEDING system 
Woven labels
For woven label cutting and folding machine, the main difference is feeding system. woven labels have woven pushing line. the pusher will push the cutting line in a proper range of label section length. To avoid label elastic shrinkage, there is press part just beside the cutter. Make sure that woven label can move along the guide way easily during setup.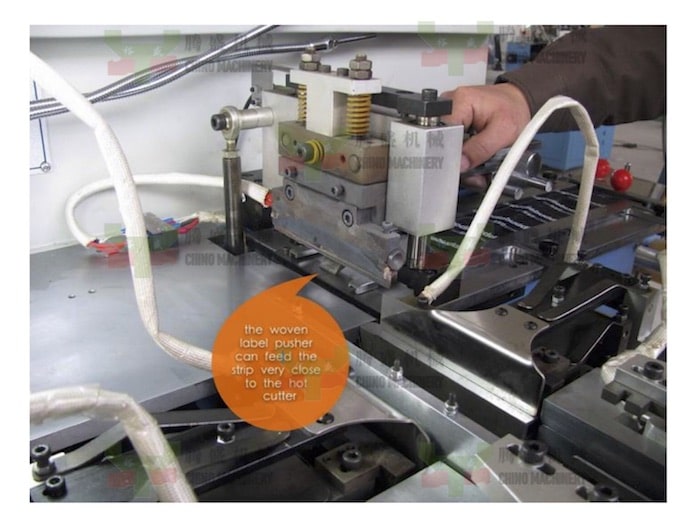 woven label pusher shall feed label cut line just under cutter. At same time, we shall be careful to avoid cutter hit the pusher. 
Printed Labels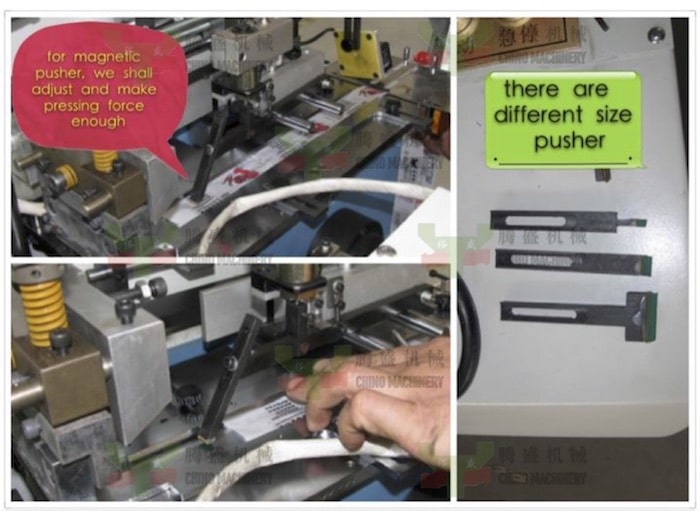 if there is no woven pushing line or for printed labels, we will have to use magnetic pusher together with mark tracer. when we install magnetic pusher, please make sure that pressing force is enough for the label. Different width label need different pusher's tip. You can find it in accessories box.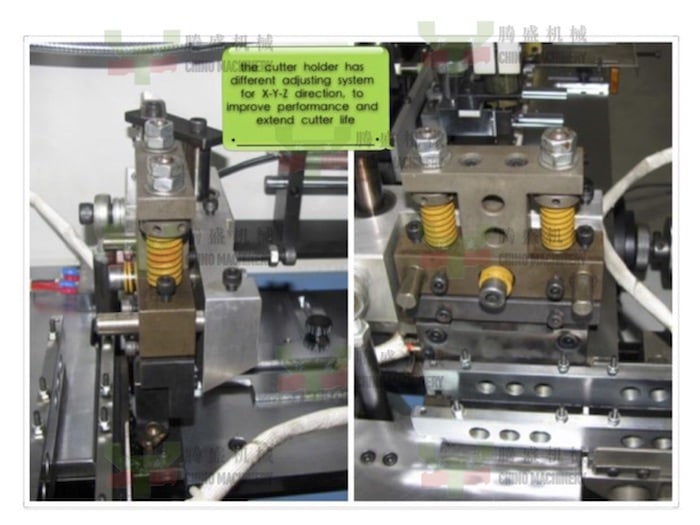 During label cutting, label may melt and stick on cuter or cutter is not sharp after a long time working. we may have to clean cutter and adjust cutter. Please make sure you knew each parts function and target. If have questions, please contact us any time.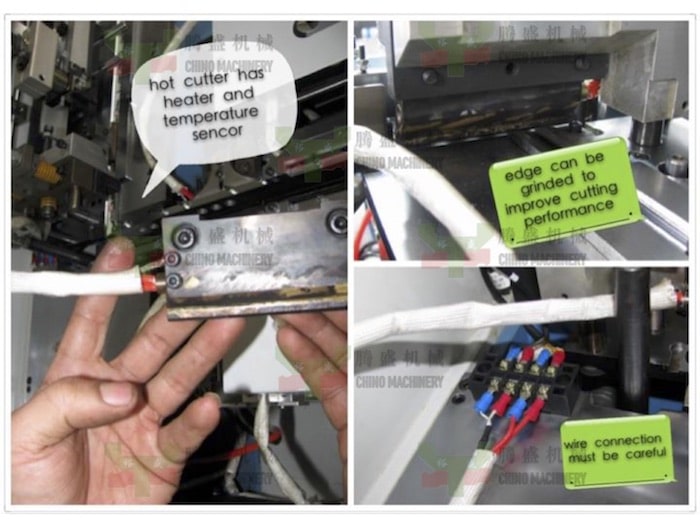 After a long time working, hot cutter may need to be taken off and grounded. or heater / temperature sensor may need to be exchanged. Please make sure wire connections is correct. Reinstalled cutter shall be parallel to working table after heated.  
Label length setting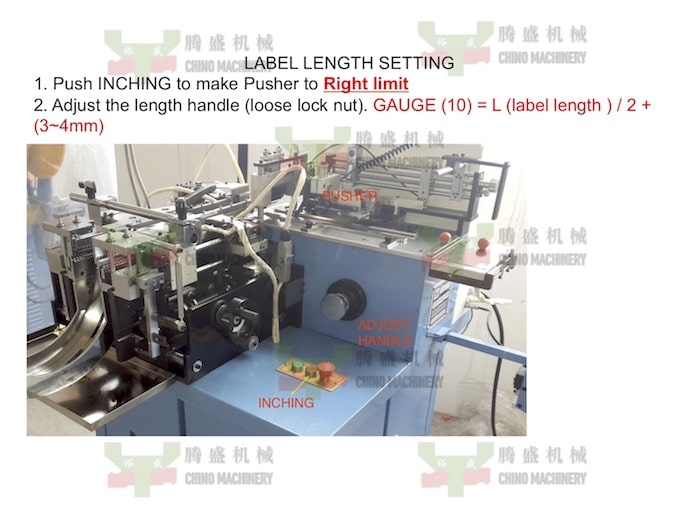 for different length label, we shall set label length on machine. The procedure is:
Push INCHING button to make pusher to right limit position;
loose label length handle locker and adjust label length (checking the ruler under feeding screws). = (label length) / 2 + (3-4mm). then lock the locker handle. 
Push INCHING button to make pusher move to left limit, adjust the woven label pusher tip position that it can just feed label cut line under cutter.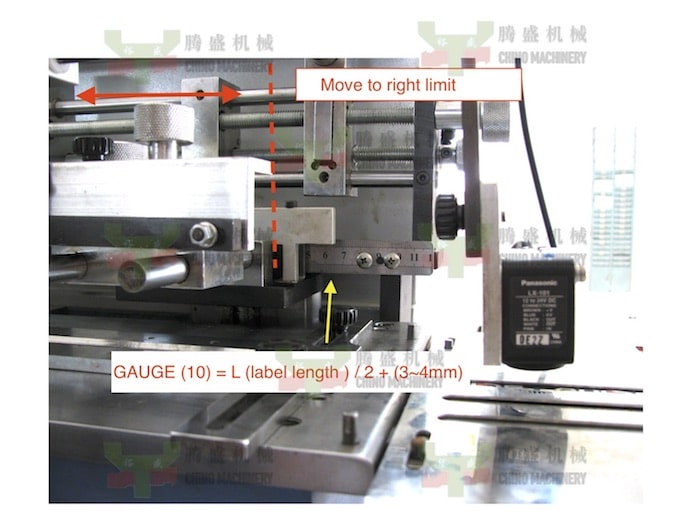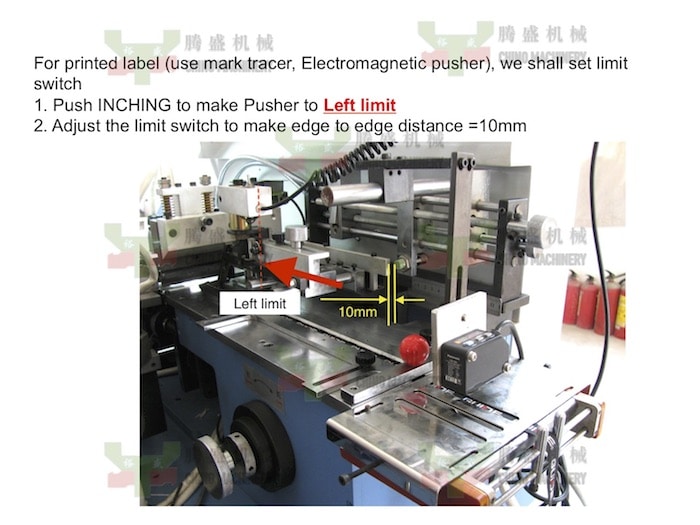 for printed label, we will have to use magnetic pusher and need to set additional thing. Push INCHING to make pusher move to left limit, then adjust metal plate to limit switch gap to about 10mm. 
Mark Tracer Setting
for mark tracer, we shall do TEACH-IN to make tracer know which is marker. method is 
switch on mark tracer;
Manually push label cut line under cutter, Adjust mark tracer position to a "MARKER". Adjust tracer height to make light spot clearly on marker. (*the marker shall be clear and easy to identify. There is enough blank area before the marker is better. ) 
Then press Button of EE test;
Move light spot on blank area, press EE test again. 
Mark tracer TEACH-IN is finished. 
Then we can adjust folding tool and try label machine working. 
Pleas check further @ Youtbe, Label cutting and folding Operation guide