Chino machinery YS-5000, YS-6000 series machine has ultrasonic cutting function. And the machines can also do hot cut, cold blade cut. In this article, we will guide you to exchange cutter properly. The method is also suitable for ultrasonic cutter reuse after grinding.
1. Suitable Label machines:
YS-5000 woven label ultrasonic cut and fold machine
YS-6000 printed label ultrasonic cut and fold machine
Others, there can be other model label machine with ultrasonic cutter, like YS-4000, YS-5000 /YS-6000 series (YS-5100, YS-6100 and so on).
2. Ultrasonic horn position:
The horn can be in top or down position. Ultrasonic cutter will be on opposite side. Cutter fixture has similar adjustment structure. Setting and calibrating principle will be same.

3. Different Cutters:
Multi function label cutting and folding machine can cut in different ways, like hot cut, cold blade cut or ultrasonic cut. Along textile label feeding direction, different cutter position can be hot, cold and ultrasonic.
Hot cutter
top blade tip is in triangle shape. Hot tip will press on down blade top surface to cut and seal label. Top /down cutter relative position is adjustable in a narrow range.
Cold blade
cutter is like one scissors. Cutting is on top / down edge. Position is fixed. Top blade only has one edge. Down blade has two edges can be used.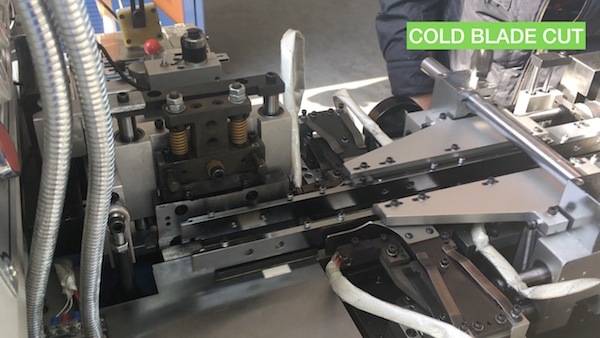 Ultrasonic cutter
is a system. Ultrasonic generator is inside machine body. Ultrasonic horn position is fixed. High frequency vibration, between top blade and horn, will generate high temperature to cut and melt label in short time. Top flat surface of ultrasonic horn will be label cut range. When cut line slot is too much, we can change another position to continue.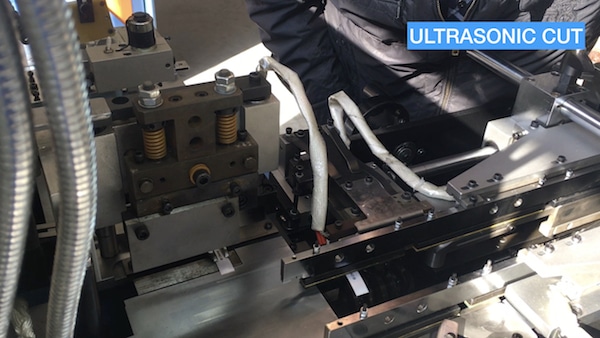 4. Machine timing:
Label cutting and folding machine has different procedures, unwinding, feeding, tracing, cutting, pressing, folding and stacking. The steps will be connected each other by label machine structure. We call such connections time different label machine timing. To understand timing will help us improve label machine performance and solve problems.
Different cutters need different cutting position. It will affect label-pressing timing. When we change cutter to different type. We shall calibrate timing. We can try to cutter position closer to reduce timing adjust difference.
5. Ultrasonic cutter change procedure:
Take off previous cutter and install ultrasonic cutter;
Adjust (top) cutter position and press INCH button check cut line is proper;
Move feeding guide closer to ultrasonic cutter. Ultrasonic horn vibration will blow label strip. The guide way will help label-feeding stable.
Press INCH button to make cutter down and press on horn surface.
Make cutter zero gap to horn and can move up/down in parallel. Because we need cutter touch horn lightly and shortly to finish cut. Parallelism is very important. It will make cutting efficient.
Turn fixture nuts to give proper cutter pressing force. Springs in the structure will give longer touching time during cut. Shorter touching time can make cutter longer life and lower noise. Longer touching time will make cut complete and clean. If cutting is no more complete, we'd better to check if need grind cutter.
Remove label machine left side belt cover. Loose 3 pcs belt wheel bolts and adjust relative position to adjust timing of cut-press.
NOTE:
KEEP ULTRASONIC OFF DURING SET. ONLY TURN IT ON BEFORE CUT.