Anilox is ink transmit part for flexo printing machine. The surface is covered with lots of same size, shape and depth holes. The holes will hold ink and transmit it to printing plate and then transmit to textile labels.

Structure of Anilox surface
Basic body material normally is cast iron;
Base material is stainless alloy;
Surface coating, the material can be chromium or ceramics;
Ink holes
Side wall for anilox holes;
Chino flexo printing machine's alinox surface coating is ceramics. Base material is carbon steel with stainless alloy coating. High accuracy machined dimension will warrantee printing performance. The coating structure will make anilox has longer working life.
The hole quantity of anilox surface will directly affect ink transmit performance. While how to evaluate quantity of the holes? According to international standard, we use LPI (lines per inch) or LPCM (lines per cm) to define it. Range can be 150~500LPI. Lower LPI can transmit thicker ink. Higher LPI can make color printing more uniform.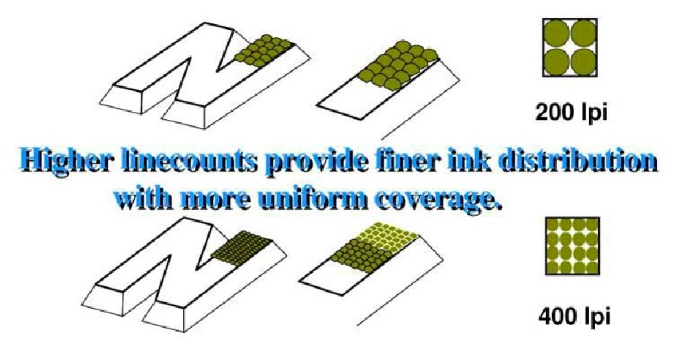 Normally for our garment label flexographic printing machine, we mostly use 180,200, 250 or 300 LPI. 300LPI can be for small letters printing or more layers color graphic printing. 180LPI can be for normal logo or drawing printing. For each unit Chino flexo label printing machine, we will supply different LPI anilox. User can use it according to printing content.
Chino flexographic label printing machine's anilox will be installed together with ink tank and scraper blade. We shall be careful with printing quality and remember to clean the package in time. If the ink dried too fast or not cleaned at all, it will affect ink transmission and make content not clear. Dried ink or stick some other partical may be too hard to scratch the surface of anilox.

During cleaning of anilox, we shall be careful. Don't use hard things to touch the surface directly.
Operation video like in YOUTUBE: Rotary label printing machine