The flexo label printing machine adopts advantages of different designs. Machine can print up to 8 colors. front side of label can be max up to 6 colors. for the other side, normally 1-2 colors.
        Working procedure is ink tank apply evenly ink on anilox roller. At same time, Anilox roller will rotate and transfer ink to print cylinder. as we know that flexo printing plate is sticked over print cylinder surface. so that flexo graphic plate will rotate and make ink over the garment label. after drying through hot air and iron, rewinder will remake ribbon into roll. 
         finished label has bright and strong printing color, high color fastness, washable.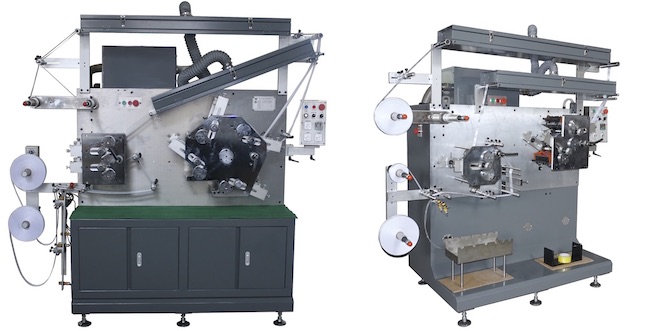 Advantages:
the machine is widely used for various material, thickness, width or length garment labels. label material can be satin, taffeta, nylon, silk, Various composite label ribbons;

High print quality is one important character of the label printing machine. print quality is based on machine structure and components accuracy.
our flexographic printing machine structure parts was through CNC machining. assembling accuracy is higher. we are using stable printing cylinders and anilox suppliers from a long time. quality is very good and stable.
The machine adopts satellite structure design. it is very successful design for garment narrow labels making. two sets centre rotate barrel synchronize each print stations through accurate gears.

according to label design, we can select proper size print cylinders.  Basically circumference of print cylinders is some longer that label. so that we can stick flexo plate over surface properly. label print will be efficient.

Anilox is one key components for the rotary flexo printing method. we are using ceramics coated high accurate anilox. working life is the most longer. different dencity holes will be suitable for various print contents. normally we use 250lpi for rear side label printing, 300lpi for front color print.

Flexo plate material is photopolymer plate. with flexo label plate making machine, customer will be easily make print plates by self. according to plate material, we may use chemical solution or water to make the plate.

Flexo label printing machine working speed is up to 60m/min. operator can apply one or two more label rolls on the machine. it will make label print very fast and efficient. there is sensor to detect label finish. machine will automatically stop and operator can exchange label rolls.
for satellite structure label printing machine, label ribbon tension control is very important. each section of machine may make label different inner stress and elongate the label and make print positioning error. we apply two separate tension control on label payoff or unwinder. good tension control makes good printing accuracy.

Chino machinery rotary flexo label printing machine has 2 sets drying system. one is for label front color drying, the other one for rear side.each drying chamber has two hot air drying and iron drying. it's very good for garment label. efficient drying can make label print high color fastness, longer time washable.
Each printing station's anilox and print cylinders can be exchanged easily. it is very friendly for various garment label design making.
Flexo label printing machine driving system is inverter AC motor. speed can be adjusted according to label material and print quality.
Gear system is with accurate metal and nylon gears. it will make machine running under lower noise. it will operators a good working environments.
Control system has print length counting function. we can preset target length and machine will stop automatically according to setting.
Our flexo label printing machine shall work with fast drying ink.

 

the printed product features washing resistance and stone wash. It meets the European and USA standards of environmental protection and freedom of toxin.

visit our youtube website for more videos: Label Machineries