Label Ultrasonic Slitting Machine Parameters:

Machine Characters:
YS-0088 high speed label ultrasonic slitting machine is suitable for slitting various materials, such as woven, satin ribbon, cloth tag and so on.
The color screen inter-face control system is very easy to operate.
Generally, Ultrasonic system includes generator & horn vibration and knife.
Cutting and sealing is in one time perfectly with ultrasonic. so there is no loose edge or shrinkage. and final edge is soft and smooth.
Because with single or double mark tracer, machine has good slitting accuracy.
3- synchronized shafts will finish label rewinding. The shaft core is with pneumatic holding system.
The machine is with automatic checking system. it will automatically stop when ultrasonic system has error or slitting break. this will avoid label faulty and waste. For sure, safety system is very important for big roll slitting into narrow labels.
Working speed adjusting is with inverter and step motor.
Guiding adjustment is automatic. woven labels can be with one side or both sides unbalance tension. To get stable slitting, we must keep label unwind and rewind under good condition.
The machine will be with full set ultrasonic cutter holder. According to label thickness, material, we can apply different size round disc cutter.
We will supply spare cutters and full set tool kits with machine.
Machine packing will be in exporting wood case completely.
Our engineer can go to customer side for installation and operation training. Of course, when user understand the machine, buyer can send engineer to our factory for training. we also can supply full operation videos or online trouble shoot.
Part list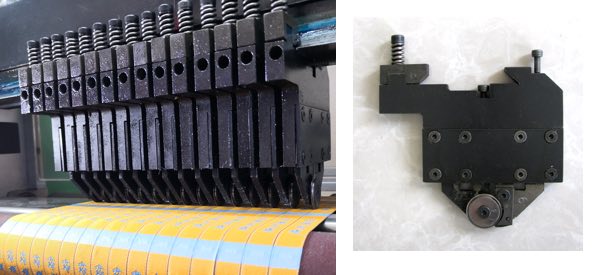 As care of most customers, what can be wearing parts? How long time the cutters can work?
Ultrasonic slitting machine's cutter holder: 21pcs
We will use parts of the cutter holders according to our target label width and roll width. there are 6pcs double side disc cutter holders. They for min 6mm label strips cutting.
Ultrasonic label slitting disc cutter: No.2, No.3, No.4 x 20pcs each.
Normally our such spare blades can be used for about 1 year for customer.
Related info: